MORNING PACKAGES
---
CONTINENTAL PACKAGE: 10.95/pp
An assortment of mini bagels, danish, muffins and scones, served with our coffee bar and fresh juice selection
THE PERFECT BREAKFAST PACKAGE: 13.95/pp
Scrambled eggs, home fried potatoes, bacon, sausage, fresh bagels, our coffee bar and fresh juice selection
GET UP AND GO BREAKFAST PACKAGE: 11.95/pp
A selection of breakfast wraps, fresh fruit salad, our coffee bar and fresh juice selection
FRUIT AND CRUNCH BREAKFAST PACKAGE: 10.95/pp
Organic fat-free Greek yogurt, assortment of fresh berries, granola, candied nuts, local honey and dried fruit, accompanied by our coffee bar and fresh juice selection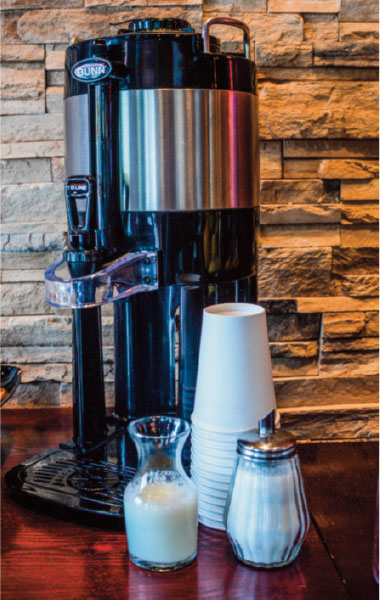 BREAKFAST ADD ONS
---
COFFEE BAR: 4.50/pp
Fresh Brewed Arabica Coffee, Assorted Teas, Cream, Fat-Free Milk, Sweeteners, Cups and Stirrers
FRESH JUICE SELECTION: 4.95/pp
An Assortment of Natalie's Handcrafted Fresh Juices
YOGURT BAR: 8.95/pp
Organic Fat-Free Greek Yogurt, Assortment of Fresh Berries, Granola, Candied Nuts, Local Honey and Dried Fruit
MINI BAKERY SELECTION: 8.50/pp
Mini Bagels, Danish, Muffins and Scones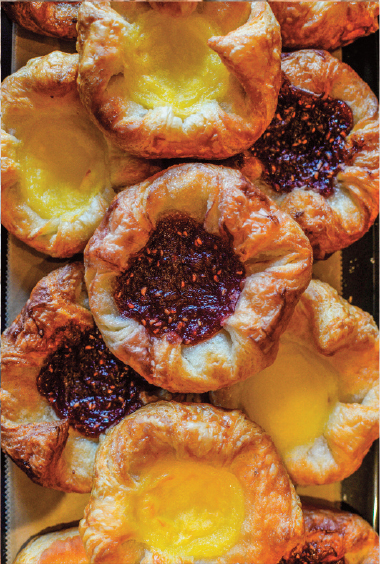 FRESH BAKERY TRAYS
All of our Bakery Trays are Baked Fresh Daily especially for you!
---
MINI BAKERY SELECTION: 8.50/pp
An Assortment of mini scones, muffins, danish, croissants and
bagels accompanied with fresh whipped butter, fine fruit preserves
and bagel spreads
MINI BAGEL SELECTION: 6.50/pp
An assortment of mini bagels and spreads
MINI MUFFIN SELECTION: 6.50/pp
An assortment of mini fresh baked muffins with whipped butter and
fruit preserves
DANISH AND CROISSANT DISPLAY: 7.50/pp
A selection of mini raspberry and cheese danish, mini croissants,
mini cinnamon buns & mini pecan braids, served with whipped butter
and fruit preserves
MINI SCONE TRAY: 6.50/pp
An assortment of blueberry, chocolate chip, cranberry and walnut
raisin scones
YOGURT LOAVES & CRUMB CAKE: 8.50/pp
Freshly baked mini loaves of tropical orange, lemon poppy seed,
chocolate marble, banana walnut, blueberry cobbler and carrot pecan
with our rich buttery crumb cake.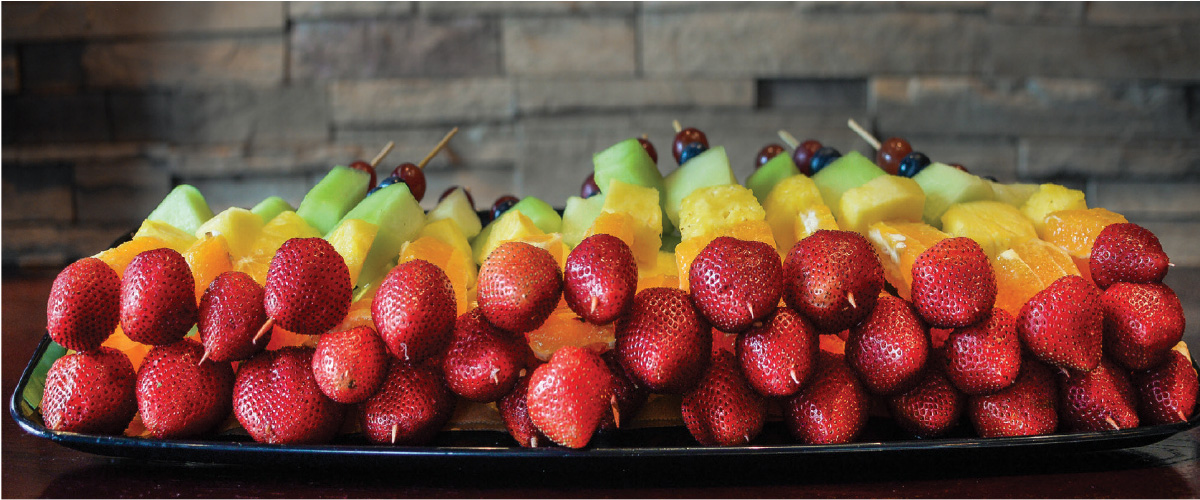 MORNING PACKAGES
---
THE FRESHEST FRUIT
Your office will thank you for starting their day with fresh handpicked seasonal fruit and arranged for your office party, meeting or special occasion. Call our catering specialist today to set up a catered event.
WHOLE FRUIT BASKET: 39.95/per basket
Great for the break room or reception desk; a grab and go selection of seasonal fruit
TROPICAL FRUIT SKEWERS: 8.95/pp
Fresh selection of tropical fruit skewered for easy eating
SLICED FRUIT DISPLAY: 8.95/pp
Fresh selected melon, pineapple, grapes and berries. Pairs great with our artisanal cheese board
MIXED FRUIT BOWL: 6.95/pp
Great selection of melon, berries and citrus. Great as a side or healthy dessert!